Say goodbye to bugs without toxic insecticides and costly pest management services
If you're struggling with a bug infestation, you're all too familiar with the frustration and cost that come with trying to get rid of it. Not only can six- and eight-legged intruders make you feel uncomfortable in your own home, toxic chemicals and expensive pest management services can do more harm than good, leading to more problems instead of solutions.

Dr. Killigan's Six Feet Under Non-Toxic Insect Spray is a plant-based bug killer designed for environmentally conscious individuals aiming to safely protect their households from unwanted pests.
Safely and effectively eliminate household insects
Six Feet Under is backed by years of study, testing, more study, revisions and retesting, ensuring this all-in-one solution solves both the problem of insects and the problem of dangerous insecticides. Toxic alternatives not only jeopardize the safety of your home but also contain ingredients that insects can build resistance against.

Unlike these chemical solutions that aim to affect only specific parts of insects, Six Feet Under targets the entire bodies of bugs, rendering it virtually impossible for them to build resistance against Dr. Killigan's plant-based formula. Using a blend of soybean, clove and cinnamon oils, Six Feet Under can put an end to your bug problem.
Count on Six Feet Under for total victory against bugs
Six Feet Under's primary killing agent, soybean oil, delivers the death blow to cockroaches, ants, mosquitoes, moths and other six- and eight-legged intruders. This ingredient breaks down the exo-skeleton of the insect, acting as a penetrant and working synergistically with the other essential oils in the formula to enhance their effectiveness and ability to be absorbed into the insect's system.
Soybean oil in Six Feet Under also suffocates insects, as they breathe through spiracles and these oils barricade the availability of oxygen. Specific metabolic processes are also crippled by this plant-derived weapon, serving bugs their last meal.
Clove and cinnamon oils enhance the termination process with compounds of naturally occurring eugenol and cinnemaldehyde (from the clove and cinnamon oils), attacking and shutting down the insect's nervous system. Modes of action include inhalation, ingestion and absorption, all of which are accelerated with the soybean oil's rapid penetration of the insect's exoskeleton.
Six Feet Under is proven to kill a vast range of insects, including—
Ants

, including the

Argentine ant

,

black house ant

,

carpenter ant

,

fire ant

,

ghost ant

,

odorous house ant

,

pavement ant

and

pharaoh ant
Cockroaches

, including the

American cockroach

,

brown banded cockroach

,

Oriental cockroach

and

German cockroach
Fleas

,

silverfish

,

earwigs

and

firebrats
Mites

and

chiggers

, including the

clover mite

,

house dust mite

,

itch mite

,

scabies mite

,

rodent mite

and b

ird mite
Aphids

, including the

brown citrus aphid

,

green apple aphid

,

rose aphid

and

woolly aphid
Earwigs

, including the

red legged earwig

,

striped earwig

and

European earwig
Flies

,

gnats

and

mosquitoes

, including the

housefly

,

drain fly

,

fungus gnat

,

blow fly

and

fruit fly
Moths

, including the

pantry moth

and

clothes moth
Weevils
Wireworms
Beetles

, including the

leaf beetle

,

woodboring beetle

,

carpet beetle

and

flower beetle
Grubs
Wasps

,

hornets

and

carpenter bees
Termites
Crickets
Larvae

(in general)

Non-insect pests

, including

ticks

,

bed bugs

and

spiders
...and dozens of other bugs
Equip yourself with Dr. Killigan's Six Feet Under Non-Toxic Insect Spray to end your household bug problem once and for all.

Dr. Killigan's Promise
We provide the most effective, non-toxic pest control solutions sold online. If you're not totally satisfied, we'll either replace your product or offer a refund.
100% Guaranteed. No risk to you.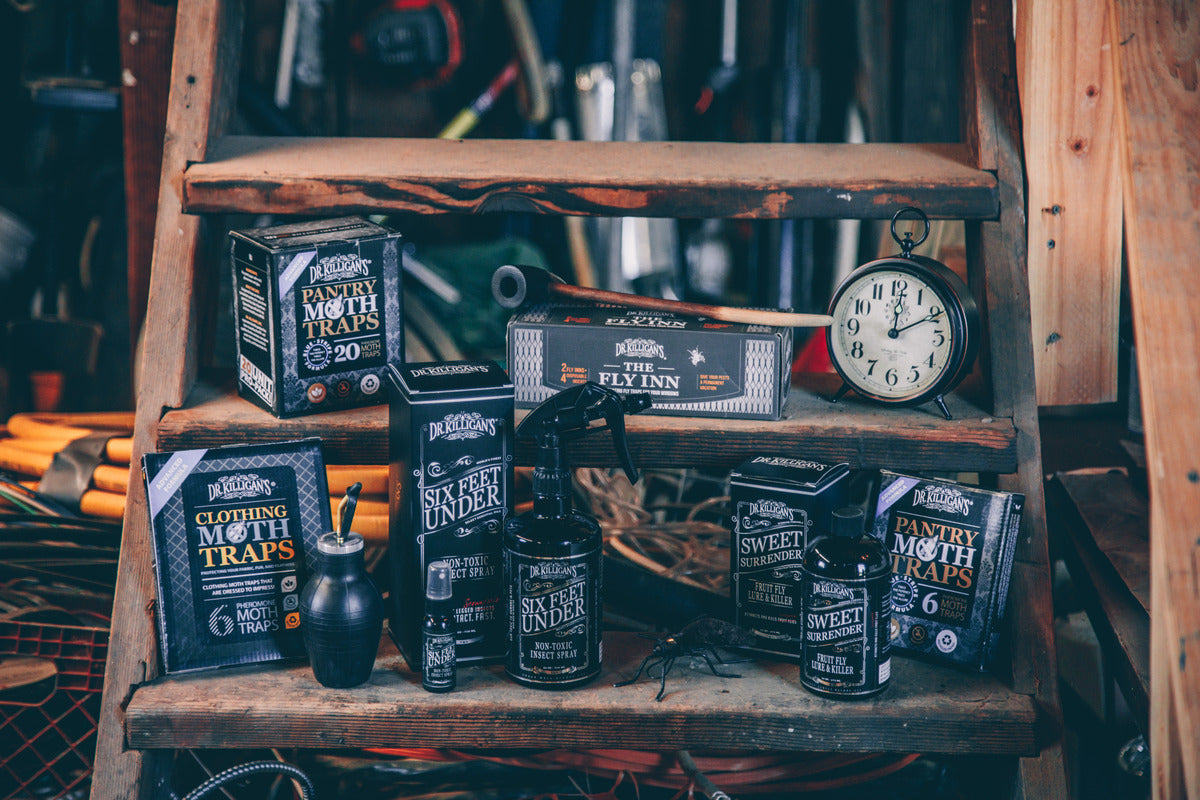 The Bottom Line:
This Is A Killer Product. 

Regardless of the pesky invaders trying to destroy the peace in your home, our products remove them quickly and effectively so you don't have to.
Restore The Peace And Take Back Your Domain! 
Frequently Asked Questions
Is it safe to spray on my dog? Kids? What about my garden?

Please use common sense. Don't spray in your mouth, eyes, etc. We value our customers' health and always want to provide a safe and effective product. In general, if you're spraying something other than an insect, it's safe to use as directed. This is not designed to be a traditional garden remedy.
Does this spray work as a preventive measure or repellent?

Our Six Feet Under spray is a kill-on-contact solution, meaning it is a rapid, effective bug killer. We recently upgraded our formula to contain a residual component best used on porous surfaces to kill for up to 30 days, which will assist in defending your home from any pesky six-legged intruders even longer. We recommend spraying a fine mist as a barrier around areas that insects are using to get into your home or where there is visible insect traffic- most commonly baseboards, the perimeter of your home, in pantry cracks and crevices, etc.
How long does it take for the insect to die?

The amount of time it takes for an insect to die will depend on the species of insect. Insects such as sugar ants will die almost instantly whereas cockroaches can take up to a minute to die as they have a hard protective exterior. If an insect has a hard exterior or hair on their body it may take longer for Six Feet Under to permeate their body, but rest assured it will still kill them.

This formula is not designed to kill spiders due to the physiological differences between most insects and spiders.
What is the shelf life of the Six Feet Under spray?

Six Feet Under has a two year shelf life when stored as directed in a cool place.
Can I spray Six Feet Under on my bedding and pillows? What about clothing?

Yes, although we don't recommend soaking them. A fine mist will do the trick. Make sure you test fabrics first in an inconspicuous spot before committing.
Can I use this to treat bed bugs?

Six Feet Under will kill bed bugs, but it is not a long-term solution to bed bug infestations.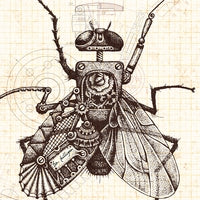 Have other questions?
Reach out to us through chat, email or phone!