SIX FEET UNDER
"It works. It actually works. Praise God. I cannot tell you how ecstatic and relieved I am to finally have a non-toxic insect spray THAT WORKS. Thank you thank you thank you!!"

— Carine, Verified Customer

INSECT BUSTER
"If I could give it ten stars I would. This has absolutely changed everything for me regarding pest control."

— Todd, Verified Customer

DUST TO DUST
"I decided to try Dust to Dust in my garden this year to tackle the seasonal influx of aphids. I mixed the powder with water and applied it to the stems of my plants. Viola! No more aphids! Will be resupplying soon. Thank you Dr. Killigan!"

—Jason, Verified Customer

THE FLY INN
"Besides actually looking classy, they actually work! I didn't realize how many flies I had buzzing around my house until they started accumulating in the traps."

— Jenna, Verified Customer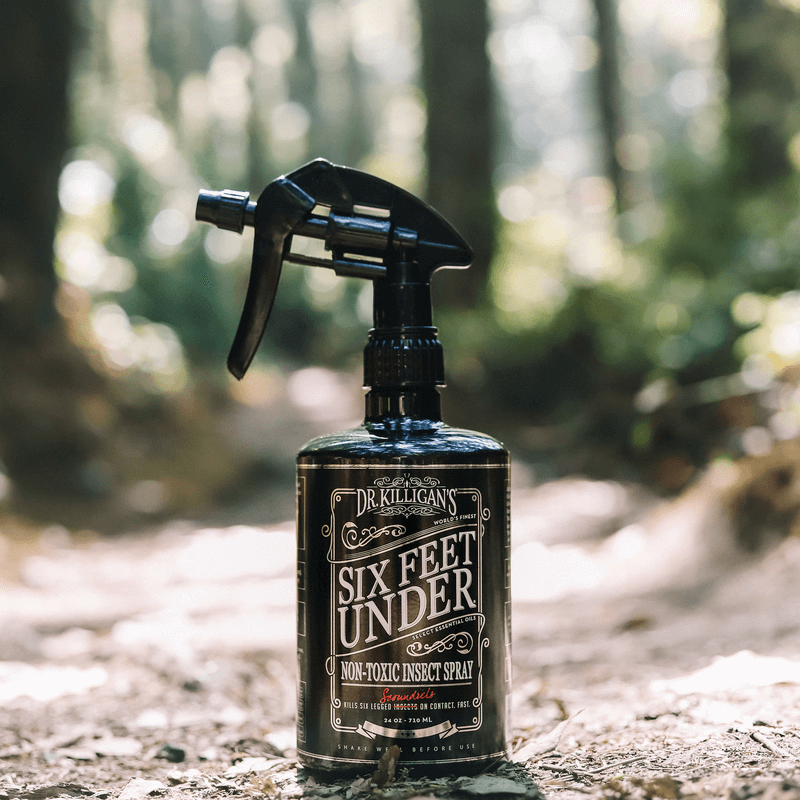 Six Feet Under
The best non-toxic insect killer spray on the market, Dr. Killigan's Six Feet Under is an expertly crafted blend of select essential oils designed to eliminate bugs. While it is safe for humans and pets when used as directed, it's deadly for destructive insects. Six Feet Under is guaranteed to keep those six-legged culprits pushing daisies.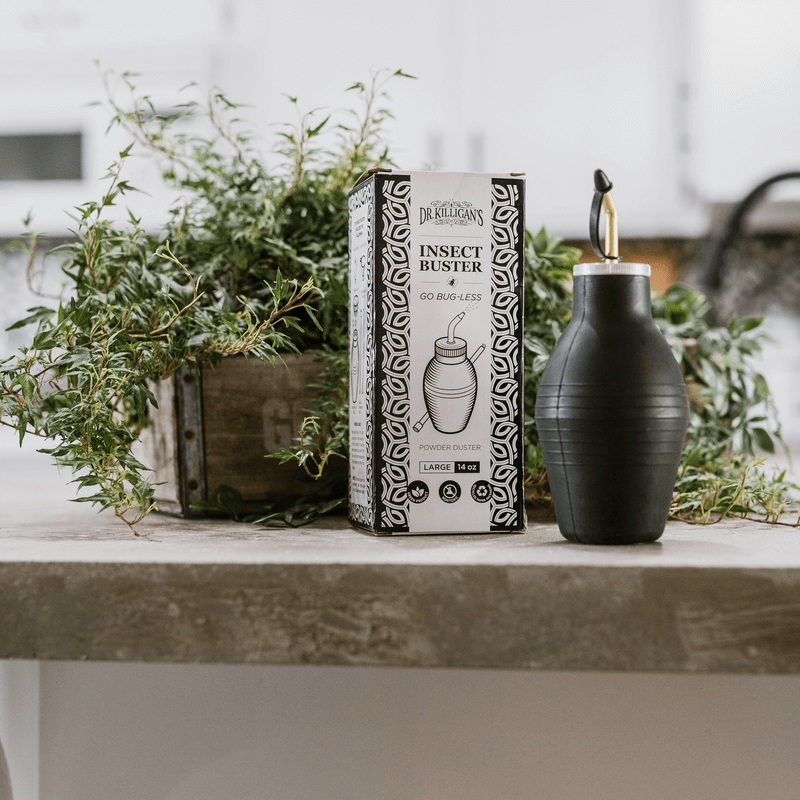 Insect Buster
The most effective tool for dispersing diatomaceous earth and other non-toxic powder insecticides, The Insect Buster® from Dr. Killigan provides a bulb duster that is compact in size…but packs a wallop. No more bed bug bites. No more ants marching two by two. This is one super-quality, single-purpose, must-have tool designed to last a lifetime.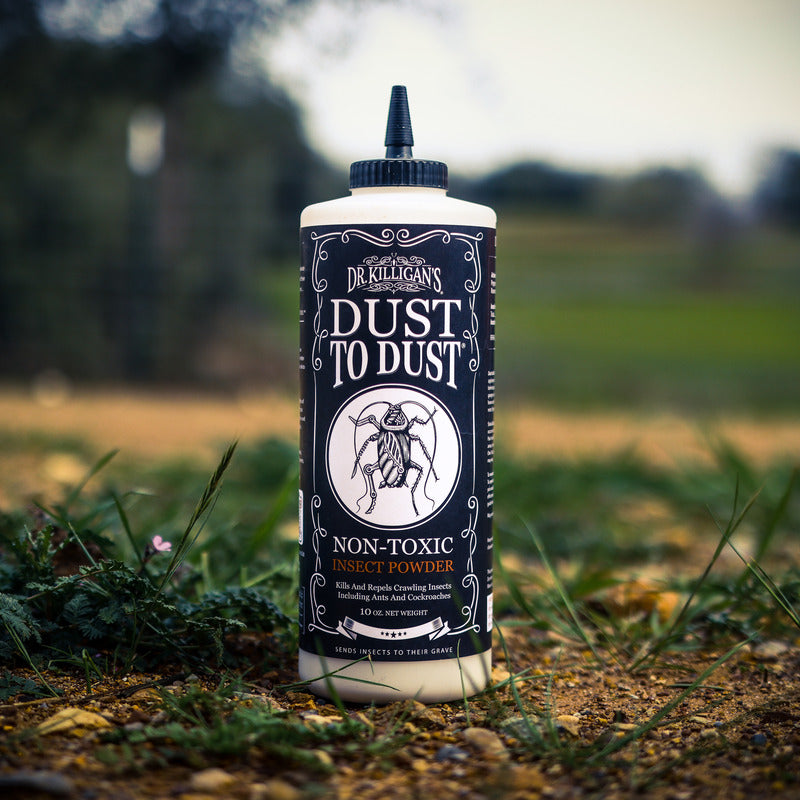 Dust to Dust
Insects can be relentless in their pursuit of infiltrating your home. They'll wiggle their way through even the tiniest of cracks and crevices and act like they own the place. But fear not, because Dr. Killigan has got you covered.
Dr. Killigan's Dust to Dust Non-Toxic Insect Powder is a scientifically proven bug-busting formula made with super-fine silica and essential-oil nanotechnology. This proprietary solution is guaranteed to kill ants, roaches, fleas, ticks, silverfish, earwigs and more—all within 24 hours of contact.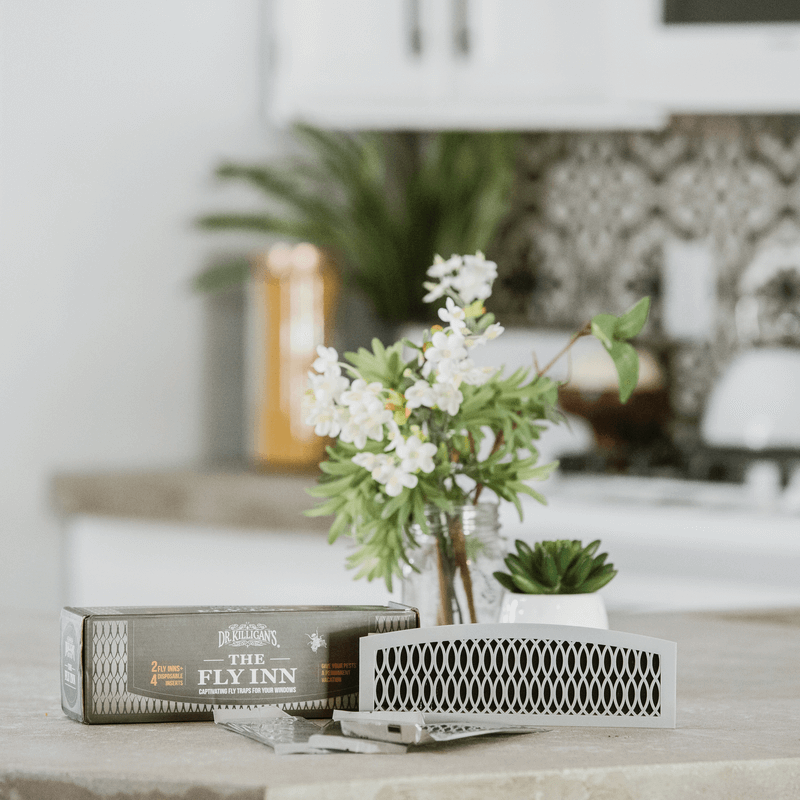 The Fly Inn
Give insects a permanent vacation with The Fly Inn from Dr. Killigan—a captivating trap for your windows. Simply wet the suction cups on the back of the trap and secure it to any window where flying insects are drawn to light and spend plenty of time. Effortlessly stop them in their tracks—and avoid the eye-sore of dead bugs.
Frequently Asked Questions
Does Six Feet Under work as a preventive measure or repellent?

Six Feet Under spray is a "kill on contact" solution for an array of bugs—including cockroaches, mosquitoes, moths, flies, earwigs and silverfish. It is not meant for preventing insects like a repellent. Our most recent upgraded formula does have a residual effect that will let the potency linger on the sprayed surface.
What makes Dust to Dust non-toxic?

Our Dust to Dust powder is non-toxic due to it being FIFRA (Federal Insecticide, Fungicide, and Rodenticide Act) exempt. It contains silica, a mineral from the earth's crust, which is generally regarded as safe and is also a FIFRA 25b exempt inert ingredient.
How do I use Dust to Dust proactively?

The best way to use Dust to Dust proactively is to apply the product outdoors around the foundation, near entry points, and all other areas where insects can access your home.
Garage doors can also tend to allow space for insects to crawl through. Apply this product along the bottom of the walls in your garage and near the garage door tracks.

Attics, as well, are a common space for insects and spiders to hide out because they typically don't see as much foot traffic and are often undisturbed.

We recommend that you monitor the areas where the product has been applied and reapply as necessary. Heavy rainfalls outside or heavy foot traffic indoors can be cause for reapplication. This product tends to stand out so it is relatively easy to see where it is and isn't. Reapplication is key to keeping pesky invaders fully out of your home.

"Set It and Forget It"

Please read our blog regarding bugs during winter time and how what things can attract insects into your home initially:

https://drkilligans.com/blogs/pest-control/where-do-bugs-go-for-the-winter

https://drkilligans.com/blogs/insects/holes-in-your-home-attract-these-insects
What do I do if Dust to Dust is accidentally consumed?

Our Dust to Dust powder is not intended for consumption.

The powder may cause nausea and vomiting if consumed in excessive amounts. If ingested, please consult a doctor or veterinarian.
What are the accessories with The Insect Buster and how do I use them?

For mess-free filling, we've included a convenient funnel for your diatomaceous earth (DE) powder, which is not included with your order of this product. DE is a very fine powder and also clumps very easily. This can result in small inconsistencies in flow with most powder applicators on the market. To avoid this, we've included a steel ball already in the bulb. You can shake periodically to break up any small clumps. The flexible vinyl tubing can be attached to the curved tip to reach around corners or eaves, and last but not least, the brass extension rod can be used to get into those hard-to-reach crevices. Just unscrew the curved brass tip from the aluminum lid and thread the extension rod in its place. Now add the curved tip to the nut connector at the end of the extension rod and viola!
Are these products safe to use around my home?

All of our products in this bundle are completely non-toxic and are safe to use as directed around food, pets and children. Dust to Dust is safe for you, but deadly for bugs. However, if Dust to Dust is inhaled, it may irritate the nasal passages. We recommend a mask while using the Insect Buster to disperse the insect powder around the home until it has settled.
Where do I place the Fly Inn?

Proper trap placement is the key to your success. You want to capitalize on the fact that flies are attracted to light, by placing these traps on windows. These traps will not yield the results you desire with placement on other locations such as refrigerators, doors, or walls. These traps work best at the bottom edge of the glass because the top of the trap has the largest opening for insects to enter. Clean the glass so that the plastic housing suction cups will stick well, wet the suction cups for max suction, and adhere to windows. Then place the sticky trap insert inside the housing. Choose windows that seem to be high traffic or "popular hangouts" for bugs. There are usually at least two windows in a home that seem to attract bugs more than others. Place your traps on these windows. Proceed to catch flies and other bugs.
What kind of flying insects will be caught by The Fly Inn?

These work for flies, moths, and other insects that fly along or crawl on windows. The Fly Inn takes advantage of habits, (attraction to light and windows), instead of smells or other pheromone attractants. They catch bugs when you're not looking, but keep in mind that not all fly species are attracted to light.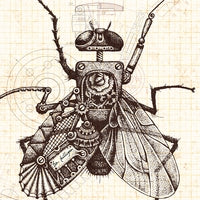 Have other questions?
Reach out to us through chat, email or phone!