Non-toxic and natural insect spray to get rid of ants, moths, cockroaches, and more. Safe for use around kids and pets when used as directed!
Toxic insecticides are dangerous to your long term health and that of your family and pets. The alternatives are not a marked improvement as many nontoxic insecticides have not been properly formulated, resulting in weak applications and poor results. Simply put, they don't kill bugs.
Six Feet Under is a non-toxic, powerfully potent, all natural insect spray. This effective spray uses only ingredients that are safe for use in your home and around your family and pets. There are no fumes, no dangerous pesticides, no harsh chemicals, no pyrethrins, no pyrethroids, and no permethrin, so you can protect your home from destructive insects while keeping your family safe. The clove and cottonseed oil formula will eliminate ants, pantry moths, clothes moths, flies, fruit flies, mosquitoes, roaches, ticks, fleas, mites, bed bugs, earwigs, silverfish, and more. This fast-acting, natural indoor pest control solution is a great alternative for a pet safe bug spray. Get rid of fleas and ticks in all life stages without worrying about your pet's health by using toxic chemicals for treatment.
Effective Against: Ants, pantry moths, clothes moths, flies, fruit flies, mosquitoes, roaches, ticks, fleas, mites, bed bugs, earwigs, silverfish, and more!
End the bug battle today!
Dr. Killigan's Promise
We provide the most effective, non-toxic pest control solutions sold online. If you're not totally satisfied, we'll either replace your product or offer a return.
100% Guaranteed. No risk to you.
The Bottom Line:
This Is A Killer Product. 

Regardless of the pesky invaders trying to destroy the peace in your home, our products remove them quickly and effectively so you don't have to.
Restore The Peace And Take Back Your Domain! 
Frequently Asked Questions
Is it safe to spray on my dog? Kids? What about my garden?

Please use common sense. Don't spray in your mouth, eyes, etc. We value our customers' health and always want to provide a safe and effective product. In general, if you're spraying something other than an insect, it's safe to use as directed. This is not designed to be a traditional garden remedy.
Does this spray work as a preventive measure or repellent?

Six Feet Under spray is a "kill on contact" solution. It is not meant for preventing insects like a repellent. It will assist in ridding you of the bugs you already have.
Does the insect die on contact with this product?

This spray is a contact killer for all insects. The time it takes depends upon the insect species. Bed bugs die faster than hornets, but in a short amount of time it will kill them all (softly, of course). Kill time can range from immediate (ants and moths), to 90 seconds (flies and roaches).
What is the shelf life of the Six Feet Under spray?

Six Feet Under has a two year shelf life when stored as directed in a cool place.
Can I spray Six Feet Under on my bedding and pillows? What about clothing?

Yes, although we don't recommend soaking them. A fine mist will do the trick. Make sure you test fabrics first in an inconspicuous spot before committing.
Can I use this to treat bed bugs?

Six Feet Under will kill bed bugs, but it is not a long-term solution to bed bug infestations.
Have other questions?
Reach out to us through chat, email or phone!
Customer Reviews
Write a Review
Ask a Question
05/01/2022
Tom

United States
Nothing But Evil Laughing
The name says it all. We had drain flies by the ton in our laundry room. It was very gratifying to watch them fall to their final resting place. This solution is flat out amazing. My wife, however, is questioning my choice of application uniform as it is very simple, composing of a black robe with hood and a 7 foot handled sickle. Well done and will buy again.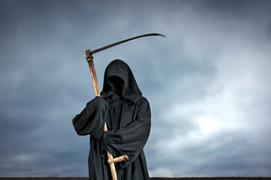 05/01/2022
Dr. Killigan's, Inc.
Hello Tom, Thank you for a great 5-star review! Way to go taking those Drain Flies to rest with our Six Feet Under Spray. Cheers!
03/05/2022
Julie

United States
Worked on Fruit Flies and my Plants Like it!
I believe that I had fruit flies and I couldn't figure out where they were nesting. I went through my whole house and sprayed Six Feet Under in every plant. (I have about 30 plants). That evening, when I was doing dishes, I didn't see a single fruit fly. Since then, I have seen a few more and am going to spray my plants again. I love that even my plants like this spray!
03/06/2022
Dr. Killigan's, Inc.
Hello Julie, Thank you for leaving a great 5-star review. We are glad you are finding our Non-Toxic, Six Feet Under Spray so successful on fruitflies too. Cheers!
03/04/2022
Carine S.

United States
It works. It actually works. Praise God.
I cannot tell you how ecstatic and relieved I am to finally have a non-toxic insect spray THAT WORKS. Thank you thank you thank you!!
03/04/2022
Dr. Killigan's, Inc.
Hello Carine, Thank you for a great five-star review. We are so glad to hear that you have found an insect spray that works for you. Cheers!