SIX FEET UNDER
"It works. It actually works. Praise God. I cannot tell you how ecstatic and relieved I am to finally have a non-toxic insect spray THAT WORKS. Thank you thank you thank you!!"

— Carine, Verified Customer

DUST TO DUST
"Love having a natural way to deal with bugs. Last week, for whatever reason, there were thousands of little bugs flying around and landing on my back door. I took the Dust to Dust and just started putting it on them. The next morning they were all dead. Thanks for a great product that safely works!"

— Rose, Verified Customer

THE INSECT BUSTER
"This. This tool right here. It was fabulous! Woke up this morning to a pristine kitchen completely free of ants. I'll be giving these for housewarming gifts from here out."

— Phillipa, Verified Customer
Fortify your home with this formidable bundle
As the chill of winter beckons, insects scuttle in a desperate bid to find refuge. The lure of warmth and sustenance draws them to our homes, bringing with them the nuisances of bites, potential disease, and sleepless nights. But with the fortress of protection that is Dr. Killigan's Bug Barrier Bundle, you can stand resolute against these unwelcome guests.
Using Dr. Killigan's Bug Barrier Bundle is a multi-step process that ensures maximum efficiency and protection against unwanted insects. Following the right application methods can help you optimize the potential of each tool and ensure that your home remains bug-free.
Prepare for bug battle with Six Feet Under

Start your insect defense by spraying this powerful yet safe concoction around the vulnerable entry points of your home. These can include window frames, door thresholds and other openings that bugs might use to gain access. Its liquid form ensures that it covers every inch of the surface, creating a barrier that bugs would find hard to penetrate. With 30 days of residual bug-killing power, it's not only a tool for preventive measures but also a solution for immediate threats. If you see a bug, give it a direct spray. Within moments, the essential oils work to neutralize it, all without releasing harmful chemicals into your living space. Remember, a regular application ensures the best results, especially during peak insect seasons.
Fortify your external defenses with Dust to Dust

After setting up your liquid barrier, it's time to fortify your external defenses with this potent powder. Identify areas where bugs are most likely to crawl, such as along the foundations and near water sources. Focus on the perimeter of your home, especially near vegetation and garden beds where bugs might thrive. Sprinkle a fine layer of Dust to Dust in these areas. Its unique formula will adhere to the bugs that cross its path, breaking down their protective wax layer and causing them to dehydrate. As this powder is non-toxic, you don't have to worry about harm to your plants or pets.
Enhance your targeting with the Insect Buster

Now, to ensure that the Dust to Dust powder reaches even the most secluded corners and crevices of your home, use the Insect Buster. Fill the duster with the powder and gently squeeze it to release a controlled puff. Its design allows you to target specific areas with precision. Use it to apply the powder in tight spaces, such as behind objects, inside wall voids or even between cracks in outdoor flooring. The strategic design of the Insect Buster ensures that every nook and cranny of your home gets the protection it deserves.
Set your defenses high with Dr. Killigan's
As you cozy up this winter, let Dr. Killigan's Bug Barrier Bundle stand guard, ensuring that the serenity of your home remains undisturbed. With the combined might of Six Feet Under, Dust to Dust and the Insect Buster, rest assured, your home will remain a haven—a place where memories are made, stories are shared and the only buzz you'll hear is that of laughter and joy.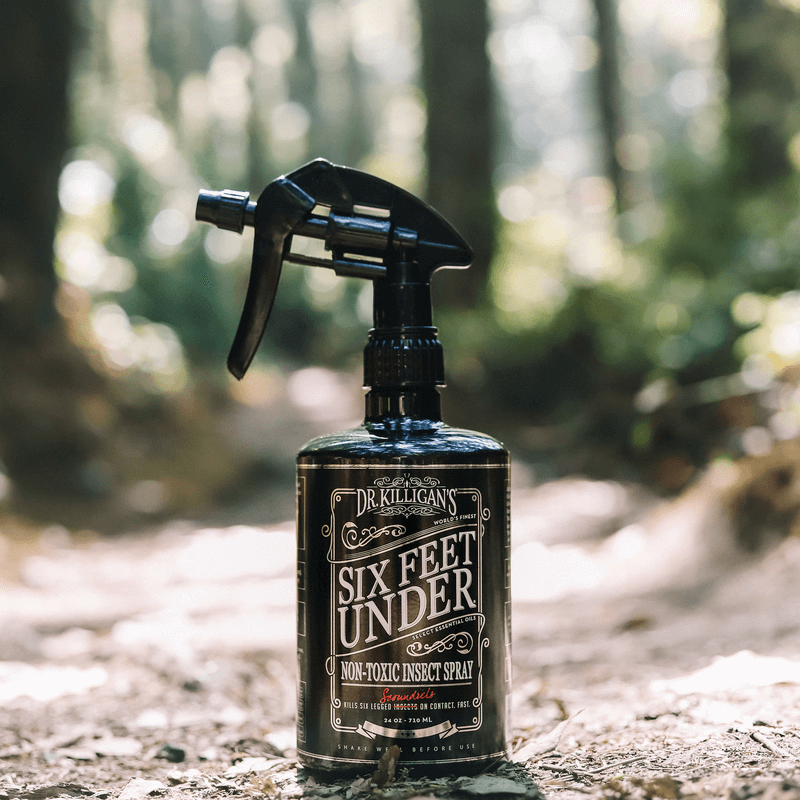 Six Feet Under
The best non-toxic insect killer spray on the market, Dr. Killigan's Six Feet Under is an expertly crafted blend of select essential oils designed to eliminate bugs. While it is safe for humans and pets when used as directed, it's deadly for destructive insects. Six Feet Under is guaranteed to keep those six-legged culprits pushing daisies.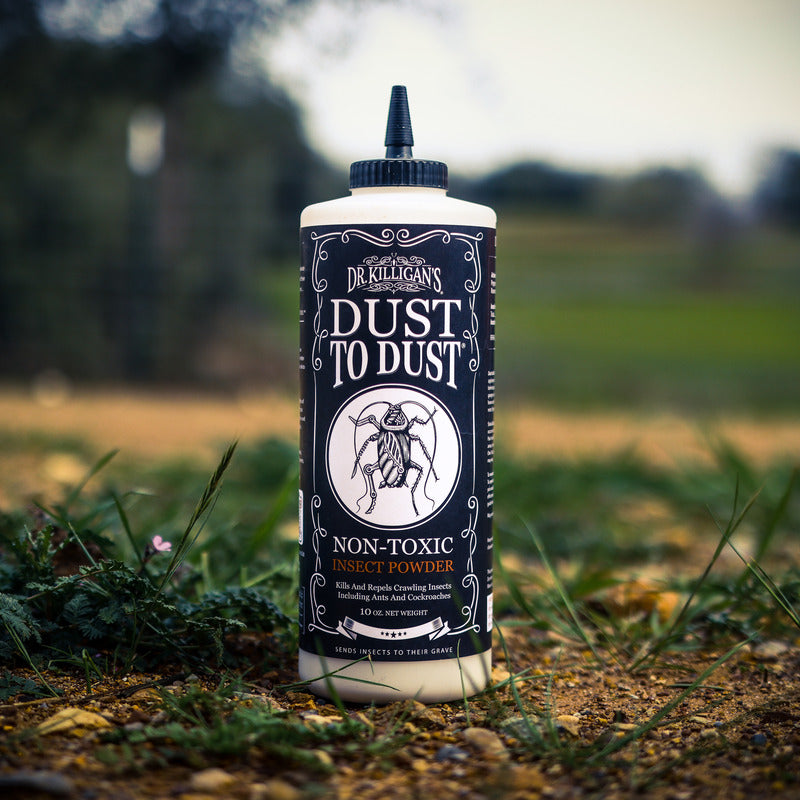 Dust to Dust
Dr. Killigan's Dust to Dust Non-Toxic Insect Powder is a lab-proven bug-busting formula made with super-fine silica and essential-oil nanotechnology. This proprietary solution is guaranteed to kill ants, roaches, fleas, ticks, silverfish, earwigs and more—all within 24 hours of contact.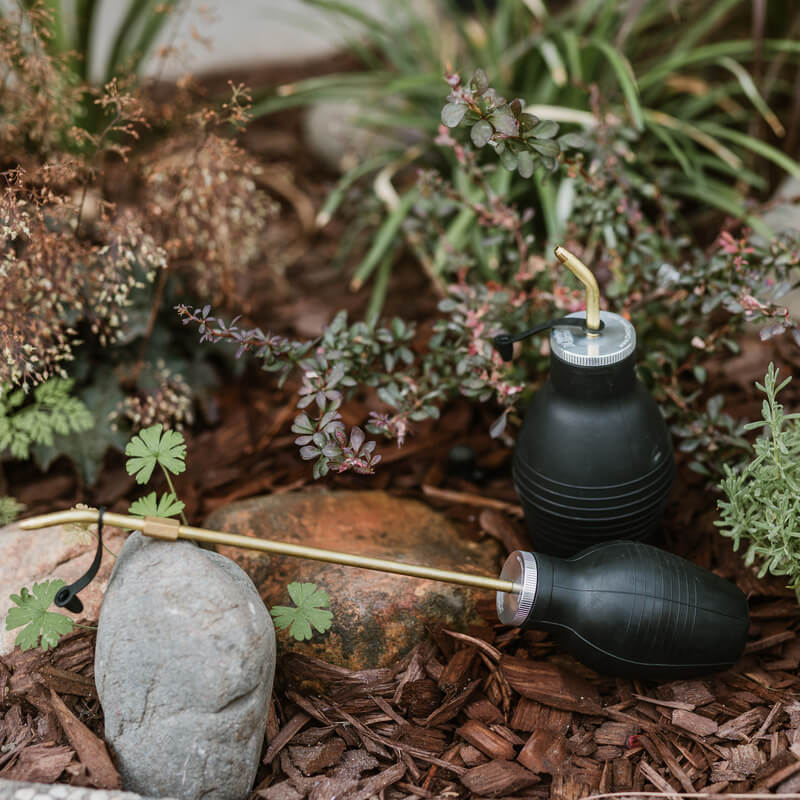 The Insect Buster
The most effective tool for dispersing diatomaceous earth and other non-toxic powder insecticides, The Insect Buster® from Dr. Killigan provides a bulb duster that is compact in size…but packs a wallop. No more bed bug bites. No more ants marching two by two. This is one super-quality, single-purpose, must-have tool designed to last a lifetime.